Are you trying Greek cuisine for the first time? We know that it can be a bit intimidating when trying a new and different cuisine that you're not entirely familiar with and it can be difficult knowing where to start but...
Let us put those nerves to rest, because we're breaking down traditional Greek mezethes or small plates in a simple and easy way. Whether you're looking for a light and refreshing dish or something more rich and savory, our staff is always happy to answer any questions you may have! Join us in our beautiful outdoor garden space this summer and delight in refined Greek cuisine in the heart of Midtown.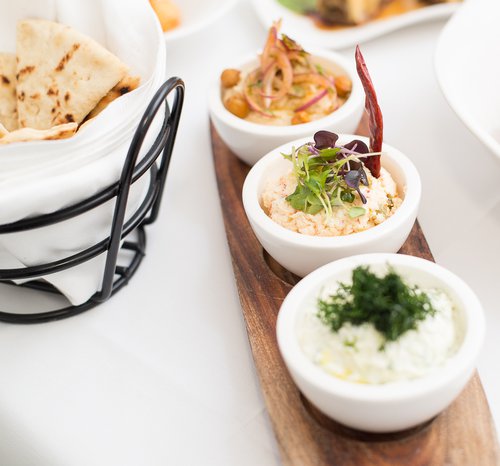 PIKILIA
Trio of Spreads
Pikilia, which translates to 'assortment', or in this case an assortment of spreads, is one of the most popular taverna dishes all throughout Greece. When sampling different Greek spreads, you'll find that each spread offers its own unique flavors, textures, smells, and even color variations. At Nerai we offer a trio of spreads featuring tzatziki, hummus and spicy feta served alongside grilled pita.
Our light and refreshing tzatziki is made with shredded cucumber, yogurt, mascarpone cheese, confit garlic, chopped dill, and sherry vinegar. Next, our smooth and savory hummus is made with tender chickpeas blended with tahini, cumin, garlic, and citric acid. Lastly, our spicy feta also known as 'Tyrokafteri' is a spicy and creamy blend of grilled peppers, feta, manouri cheese, chili flakes, Aleppo pepper, yogurt and cream.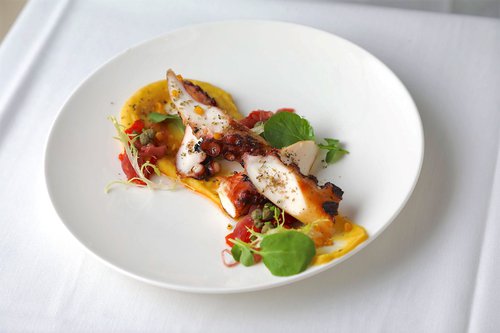 XTAPODI STI SKARA
Octopus
Grilled octopus, known for its sweet and delicate flavor and tender yet crunchy texture, has been a prominent feature in Greek cuisine ever since ancient times. You can find this Greek staple in many traditional Greek seaside taverns as well as in almost every Greek restaurant outside of Greece.
At Nerai, we slowly braise our octopus ensuring it remains tender and succulent. Next, we grill the octopus over an open flame, charring it, which seals in the flavors as well as adds a crunchy texture. Finally we plate the grilled octopus over a fava puree made with yellow split peas and garnished with caramelized onions, roasted red peppers and capers.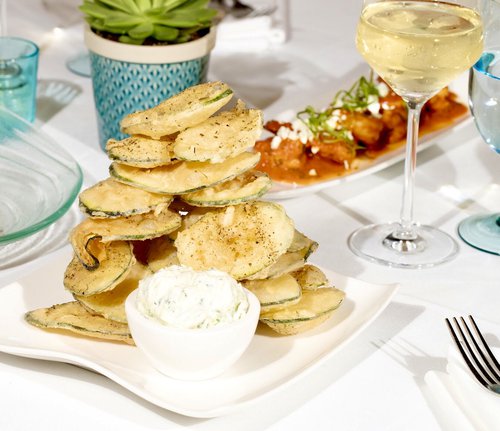 KOLOKITHAKIA TIGANITA
Chips Nerai
Zucchini fritters or in this case 'thin fried zucchini chips', like the mezethes mentioned above, are also a staple on nearly every menu in Greece. Served hot, and typically alongside tzatziki or skordalia, this simple dish will have you taste buds wanting more.
At Nerai, our zucchini chips are sliced thin and fried until golden brown, sprinkled with oregano and served with tzatziki. The crunchy chips paired with the cool and creamy dip are sure to have you ordering one more stack, before your main course arrives.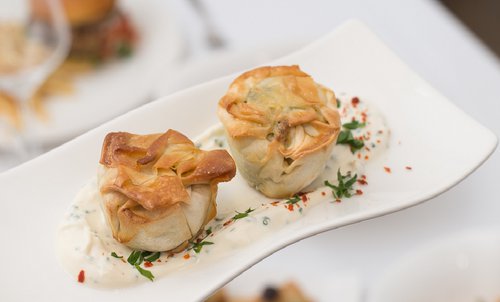 SPANAKOPITA
Spinach Pies
Spanakopita, a flaky Greek pastry made with phyllo dough and filled with cheese and spinach, has been yet another staple in Greek cuisine for hundreds of years. 
At Nerai, our Spanakopita, is a blend of sauteed spinach, onions, leeks, artichokes, manouri and feta cheeses, and egg to bind the mixture together. This mixture is then scooped into phyllo pastry and brushed with olive oil and baked, until golden brown and flaky. The pies are then served over herbed ouzo yogurt and garnished with chopped chives and Aleppo pepper.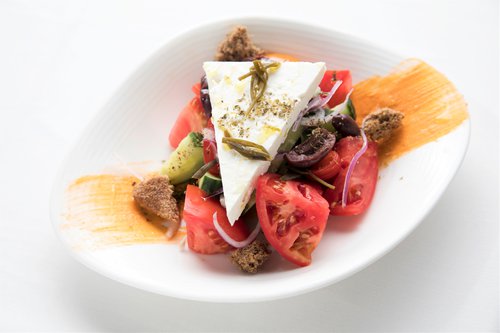 HORIATIKI 
Greek Salad
Greek salad has come to be a widely known dish not only in Greece, but throughout the world. The Greek name for this salad — "horiatiki" — roughly translates to "village salad" or "peasant salad." Authentic horiatiki is a simple dish consisting solely of tomato, cucumber, onion, green pepper, olives, and feta cheese, dressed in olive oil and sprinkled with oregano.
At Nerai, our horiatiki starts with tomatoes, cucumbers, onions, feta and olives served over a delicious tomato butter, we then add rye croutons, fried capers, and kritamo (or sea bean) elevating the salad's already delightful flavors and textures. The salad is then dressed with oregano and ladolemono, a flavorful dressing made of lemon and olive oil.