http://downtownmagazinenyc.com/nerai-review/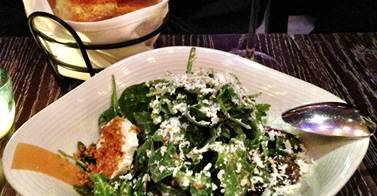 Described by one of its owners, Costa Youssis as "casual-elegant," the Greek-Mediterranean restaurant, Nerai, is exactly that, but so much more.
With incredibly comfortable seating, crisp white floors and furnishing, Nerai makes its costumers feel at peace and relaxed as they admire the delicate draping hanging from soaring ceilings and munch on a meal that is fit for a Greek god.
Owners Spiro Menegatos, Dino Gourmos and Costa Youssis brought head chef, Ioannis Markadaki (from Greece) on board, who creates sumptuous seafood dishes ranging from grilled octopus to halibut. Not a seafood person? No worries, Nerai has a meaty menu with a boneless rib eye and a lavish lamb chop dish, all of which would pair well with a watermelon salad.
If you're stopping by for lunch, you can indulge in Greek spreads, salads or appetizers such as the smoked eggplant and stuffed calamari. You can enjoy all of these elegant entrees and lunch options with one of Nerai's sophisticated cocktails. They also offer a decent variety of lagers and an array of ales on their beer menu.
DOWNTOWN Magazine's very own CEO and Publisher Grace Capobianco stopped by to test out the tasty menu herself. Her favorite dish was the grape arugula salad, which she paired with a one of a kind Greek wine, she says, "You can only get Greek wine like this at Nerai."  She also said, "The mastiha (Greek liquor) was to die for! Everyone needs to start making their reservations now because Nerai will begin to book up very quickly!"
Nerai is located on 55 East 54th Street, between Madison and Park. Reservations can be made at (212) 759- 5554.
For more information or to make a reservation online, please visit: www.nerainyc.com
–Katelyn Blakeman