Travel plans may be on hold this summer, but luckily you can experience a taste of GREECE right here in the heart of Midtown. Join us in our OUTDOOR GARDEN space nestled beneath the trees, in an open and airy space for some of our favorite summer dishes. These light and refreshing dishes, paired with cocktails and wine on a warm summer day, are sure to elevate your dining experience all while transporting you from the streets of NYC to the shores of Greece.
GREEK GAZPACHO
Looking to cool off with a light and refreshing dish in our new OUTDOOR GARDEN space? Look no further. Our Greek Gazpacho is the perfect starter to any meal offering a refreshing blend of tomatoes, cucumbers, peppers, oregano, olive oil and sherry vinegar, sprinkled with feta and garnished with fresh herbs.


MELON & FETA SALAD
What says SUMMER like fresh watermelon on a hot day. Treat yourself to this simple yet flavorful salad with sweet watermelon and chunks of salty, creamy feta cheese, over an avocado mousse, and drizzled with a balsamic vinaigrette.


FLUKE CRUDO
In the mood for another light and refreshing dish that is bursting with color and flavor? Our Fluke Crudo is the perfect dish to enjoy in the warm weather! This dish features day boat fluke with orange, grapefruit, kumquat and mint. It's the perfect combination of fresh fish, citrus, and mint.


TUNA TARTARE
Looking to start your meal off with an Instagram worthy dish that is equally delicious as it is aesthetically pleasing? Our tuna tartare offers a variety of flavors and textures that are sure to leave your taste buds wanting more. This dish features yellowfin tuna, potato kataifi, tarama espuma, and sherry vinaigrette.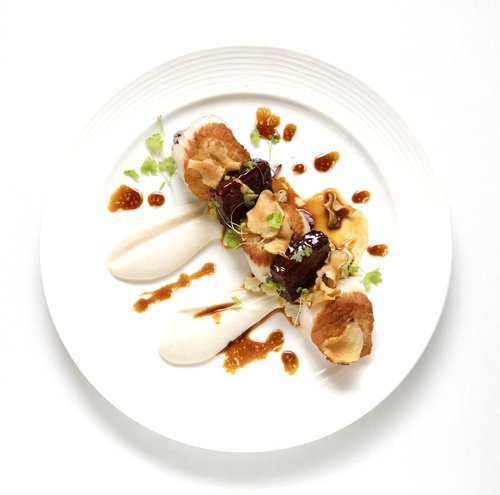 SCALLOPS
Indulge in our day boat scallops and transport yourself to the isles of Greece. This dish is a fan favorite and is sure to elevate your dining experience. Our scallops are pan seared to perfection and served over a sunchoke puree with glazed pork belly, braised in honey and ouzo, accompanied by fresh corn and English peas. Garnished with sunchoke chips, micro greens and pork belly jus, this dish is a MUST HAVE!
Join us in our OUTDOOR GARDEN, nestled beneath the tress in an open and airy space to indulge in our SUMMER FAVORITES and pair with a glass of wine or a cocktail. 




*Please note that the Fluke Crudo and the Melon and Feta Salad 

are seasonal 

additions to the menu and available for a limited time.