Looking to start your meal off with an Instagram worthy dish that is equally delicious as it is aesthetically pleasing? Our tuna tartare offers a variety of flavors and textures that are sure to leave your taste buds wanting more. This dish is perfect for the summer months as it is light and refreshing and pairs beautifully with a glass of white wine.
The word tartare means finely chopped and served raw. When indulging in a tuna tartare dish you might find the tuna to be chopped finely or chunky and flavored with oils, dressings, spices or other seasonings. Additionally you may find the dish mixed with vegetables, citrus or herbs and paired with a vegetable chip or cracker to add a crunch to the smooth and creamy texture of the tuna.
While tartare is traditionally prepared with beef, using fresh fish such as tuna or salmon became popular around the late 20th century, thus tuna tartare made its grand debut to the culinary scene.
This minimalist dish can be served in a variety of ways with a variety of textures and flavors. No wonder this dish is a crowd pleaser. At Nerai we use yellowfin tuna because of it's clean, mild flavor, and meaty texture. When our Executive Chef, Moshe is at the fish market, he's looking for tuna that has a higher fat content, as more fat equals more flavor. Further, our tuna tartare has a medium chop, neither too fine or chunky, and is served on top of crispy, julienned potatoes with tarama espuma on top. The dish is dressed with a shallot-sherry vinaigrette, and garnished with tobiko and chives.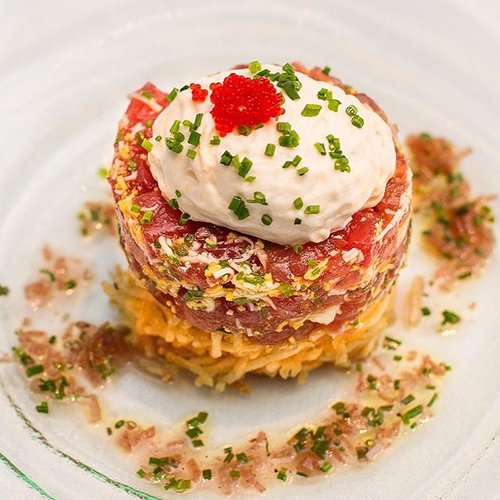 Wine Director, Michael Coll shares that the ingredients combine remarkably well on the plate, with lots of different flavors and textures. When pairing, the main components to consider are the fat content of the tuna, the espuma, and the crispy potatoes. The clean flavor, and texture of the tuna will balance the creaminess of the espuma on the palate, and the vinaigrette will add acidity, balancing the fat and highlighting the flavors. In pairing, we'll need a wine that possesses a firm acidity, and a fair amount of palate texture. Another important factor will be the flavor profile of the wine, citrus and red orchard fruit would be best. 
Pinot Grigio, Attems Ramato Rosé, Italy, Venezia Giulia 2017
Not a true rose, technically speaking, the wine's hue comes from the juice being in contact with the red grape skins for a short period, a tradition that harks back to the Venetian republic. Being in contact with the skins will also add structure and body to the finished wine. A combination of black berry and summer fruits, with floral notes on the palate. The mouthfeel is refreshing with crisp acidity, with a saline minerality. $19
Sauvignon Blanc, Semeli, Greece, Peloponnese 2017
European, old world style sauvignon blanc, mineral laced citrus fruit, harmonious, balanced and fresh. $23
Gaia "Thalassitis," Assyrtiko, Greece, Santorini 2018
Light to medium bodied, a broad mouthfeel on the palate, with notes of citrus and honeysuckle, with silky minerality across the palate. $32
Domaine du Pas de l'Escalette "Les Clapas," Languedoc 2017
Organic, medium bodied. A blend of grenache blanc, carignan blanc, grenache gris and terret bourret. Old vine plantings add concentration and density, with the eastern facing slopes giving the wine it's firm acidic backbone, combining for an elegant, fresh mouthfeel. $34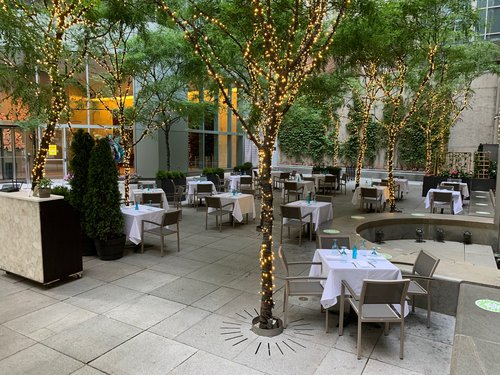 Join us in our OUTDOOR GARDEN, nestled beneath the tress in an open and airy space to indulge in our tuna tartare light and refreshing dish and pair with a glass of wine.